Plant Lovers of the Month: Daniel + Tonya Ashworth -1337 Hubbard Street
September 1, 2023 | amandasearlerealtor
When Daniel and Tonya moved into their home on Hubbard Street, the basic landscaping around the home had no chance of remaining. Daniel is a Landscape Architect and Tonya is an Environmental Horticulture Agent – plants are their thing! – and a thoughtfully designed landscape was definitely going to happen. And happen it did! If you've ever walked by their home, you'll immediately notice the brick walkway to the front porch that also extends around the oak tree out front. It is well defined by the lush plantings around the edges of the yard and the oak tree as well.

Initially, they created a hardscape and landscape plan. However, as most gardeners understand, gardening is always an experiment to some extent and as you will see, they sometimes move things around and try new varieties out when others don't work.

The current design is just beautiful and is a great one to explore for ideas and inspiration. Here's a little of their journey so far, plans for the future, struggles, and tips…

You have a large lot, how long have you been working on your yard?

Yes, the lot is large for Springfield, a quarter-acre. Our block was one of the few that was never broken up by the H-shaped alleys that are typical of Springfield, so our lot goes halfway through the block. We started on the yard as soon as we moved in 3 years ago.


Springfield is such an old neighborhood, and we have a large tree canopy because of this. Many of us struggle with what to plant in shade. You've done a great job of creating a thriving and colorful landscape with varied textures. What suggestions do you have?

The shade is a struggle, which is why we have located our raised vegetable gardens where we have, into the only sunny spot in our yard along the south edge of our lot. The number of flowering plants we can grow is limited because of the shade, so we focus on foliage texture and colors instead. We have had good success with camellias, 'Endless Summer' hydrangeas, and our dwarf azaleas, all three have been our best bloomers. Our caladiums and tricolor ginger (Stromanthe) have been great for foliage color. In the backyard we will go with a more native palette, so we will be trying oakleaf hydrangeas back there. With as hot as it gets in Jacksonville, you can usually get things listed for part shade and part sun to work out in more shady areas, but they may end up a little more leggy than usual and they may not bloom as profusely, which has been the case with firespike for us.

You have several really old trees. What do you estimate the ages to be?

We have 5 large live oaks in our yard. The oak immediately behind our house is 230 years old or more. The other three large live oaks in the back yard are about 150-180 years old. The oak in our front yard is about 40 years old. They all provide great shade for the house and yard, and they add to the Southern charm and a unique sense of place with the gnarly and intertwined branches covered with Spanish moss and resurrection ferns.

Backyard

You've been designated as having a "Florida Friendly Landscape" by the state Florida Friendly Landscaping Program. How does that affect your plant and irrigation choices?

The Florida Friendly Landscaping Program has determined our plant choices and how we have arranged our landscape beds. Minimizing turfgrass, avoiding invasive plant species, having plants arranged in defined and mulched beds, and doing things like composting, minimizing fertilization, and providing water sources and habitat for backyard wildlife are key for being rated. Our front yard is all mulched planting beds and has no turfgrass at all. We actually do not have irrigation installed because we didn't want to risk trenching around the large live oaks in our yard, so right now we hand water everything in the driest times. Once we get more of the back yard completed, we may start laying out drip hoses and hook them up when things need watering to save time and effort. We also have our yard listed on Doug Tallamy's Homegrown National Park website. To learn more about the Florida Friendly Landscaping Program, go to https://ffl.ifas.ufl.edu.


Hardscaping is an important part of the design in your front and back yards. How did you decide what you wanted to do and what materials to use?

The front yard design is based on the traditional forecourts and front yards of Charleston, SC and Savannah, GA. I wanted to use a traditional material such as brick for the paving, which you see a lot of in both cities. The bricks in our front yard were reclaimed from a building demolition from Burkhalter Wrecking. The gray brick pavers in the back yard were the leftover floor of a roofed garage where prior owners would park their cars. We also use the traditional hexagonal pavers that are common in the historic neighborhoods of Jacksonville as stepping stones, and all the ones we currently have in the yard were already on site, or were found while digging in the yard. We have big plans for the back yard that include a 16′ x 16′ deck behind the house with a pergola, benches, and cafe lighting, along with a loop walkway through the live oaks and sabal palms in the back yard with a couple of benches placed in the shade.

What was your process? Did you work on the hardscape first then the rest? Did you know what you wanted to plant in advance?

Daniel drew up plans for both the hardscape and the landscape and filed for a Certificate of Appropriateness (COA) with the City. After the COA was approved, we had the existing concrete walkway demolished and the brick pavers installed. We then had the fence installed, and we painted it white ourselves. We started the planting after the bricks were put in, and then finished things out after painting the fence. We adjusted from the landscape plan based on what the nurseries either had in stock or could order. We also made changes from the plans due to plants gifted to us by neighbors and plants Tonya brought home from her prior landscape design-build job. When we moved here, the front yard was all St. Augustinegrass that was in bad shape, and several dying azaleas, so it was quite the transformation once things really started going in.

What are your ongoing challenges?

A big challenge is hand watering, it can take over a hour to water the front and back yards. Another big challenge was finding unique groundcovers for the shade. We wanted to avoid the typical liriope or Asiatic jasmine groundcovers so we tried moneywort and ajuga with no success. The moneywort could not take the heat and humidity and the ajuga ended up getting crown rot during last year's rainy season. We think the ajuga could have been successful if we had washed the potting soil off and planted it bare root. We found out later that it was listed as invasive on the UF IFAS Invasive Plants Assessment site (https://assessment.ifas.ufl.edu/), so it worked out, I suppose. We have had good success with 'Evergold' sedge as a groundcover, but it does seem to suffer in the extreme heat we have had the last couple of weeks.The other thing we thought would work well here, but hasn't quite yet, is bear's breeches. There were some large blooming specimens Daniel saw in Charleston's parks, so we thought they would do okay here. We couldn't find the plants nearby, so we ordered them by Etsy from a source in California. These bear's breeches look great in the fall and spring, but absolutely suffer in the thick of summer heat, and they still have not bloomed. We may move them to full shade or try finding replacement plants from another source a little closer to Florida.

Another challenge is how the sun and shade moves with the seasons through the year. The strip of planting along the fence on the north side of our front yard is almost full sun during the summer and almost full shade during the winter, and finding plants that work there year round has been a challenge. That area of the yard may end up being devoted to seasonal color to be changed out with the seasons.

How often do you work in your yard?

We work in the yard at least two weekends per month. It mostly depends on how dry it gets and how much weeding needs to be done.

You have a lot of natives. Where did you source them from?

Most of the natives we have came from Chiappini Farm Native Nursery, Native Plant Consulting's periodic plant sales, and from Plant Place Nursery in Arlington which has started carrying more natives the last several months. A few of the natives here and there came from Williams Plant Nursery and Liberty Landscape. Some plants like the coontie and wild coffee we propagated from seeds and cuttings.

What tips do you have for folks who are wanting to improve their landscapes?

Though we designed the yard at once, we are implementing it in phases, so our biggest piece of advice would be that you don't have to do it all at once, you can take an incremental approach to things. Also, don't be afraid to move plants around if something is not working out right, some plants we have moved upwards of three times. Also, it is important to amend the soil before planting. I recommend getting a soil test done and amending with pine bark fines, manure, and compost. Our yard pH trends basic, so we also amended with elemental sulphur and magnesium sulphate before we planted.

What's your favorite plant and/or part of the yard?

The front yard is our favorite because it is the fruit of our labor you can easily see. We are really happy that the bird of paradise plants started blooming in the pots at our front entry steps. We planted those over two years ago and covered them in blankets over the last two winters. Additionally, people are usually surprised by the huge live oaks in the back yard when they see them.
Additional Photos: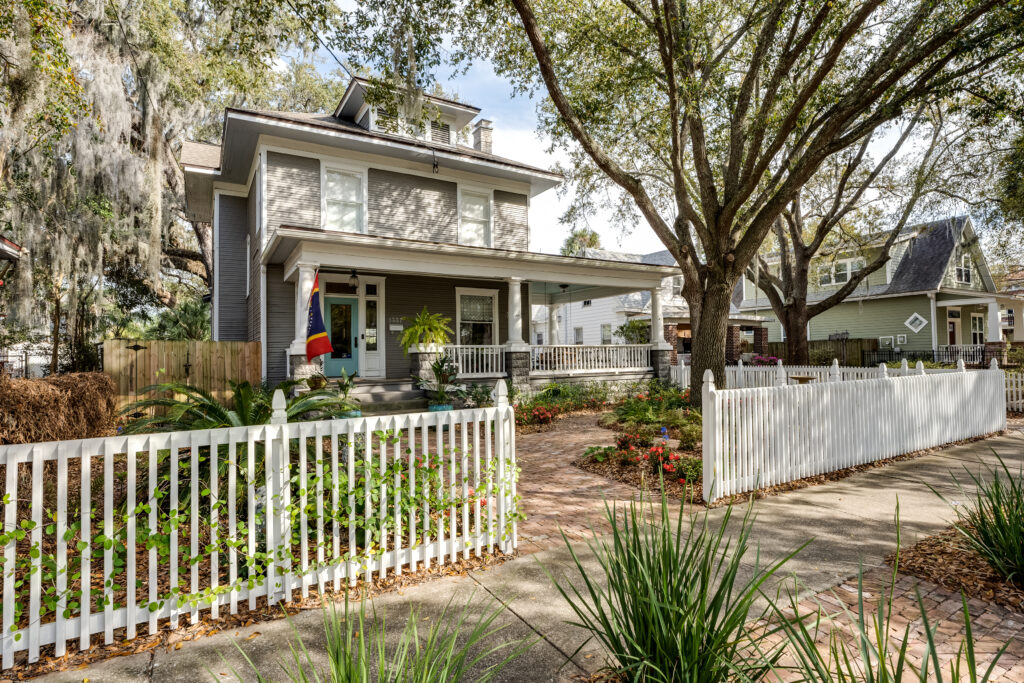 Do you know someone with a great a green thumb? Maybe they are great at landscaping, potted plants, or vegetable gardening? Shoot me an email and nominate them for "Plant Lover of the Month!" Sharing tips and experiences helps us all!
Please follow and like us:
---
---